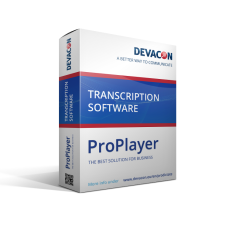 ProPlayer is the sister product of our ProDictate dictation software. Using ProPlayer, audio created with ProDictate, or another digital dictation solution, can be played and edited quickly and efficiently. Playback is controlled using the foot switch connected via USB, which offers 'rewind', 'fast-forward' and 'stop' commands. Additionally, depending on your needs, playback speed can be adjusted accordingly.
Because they are included with the ProPlayer solution, there is no need to install any additional drivers. By supporting all common audio codecs and USB foot control features, ProPlayer's installation and operation is kept effortless.
Furthermore, multiple platforms are supported: You can use ProPlayer on Windows-based PCs, Windows Terminal Server (WTS), and on XenApp and XenDesktop. The use of a thin client, such as IGEL UD3, is also possible. The drivers for the IGEL are even centrally distributed via UMS management software. 
ProPlayer benefits:
Rapid and stress-free installation,
Citrix and WTS compatible,
Use of foot switch controls for recorded speech playback,
Hardware support for common USB foot switch brands,
Rewind, fast-forward, and stop options,
Variable playback speed,
PCM-supported codecs