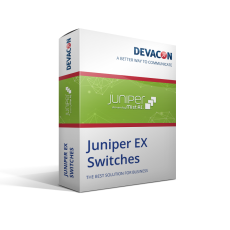 Juniper EX switches provide a high-performance network infrastructure with high availability and easy management. With features such as Virtual Chassis, Virtual Chassis Fabric, and EVPN VXLAN, they enable a flexible and scalable network architecture. The switches also offer advanced security features such as MACsec encryption and advanced ACLs to protect your network from threats. With MIST AI-based technology built into some models, network management becomes even easier and more efficient.
In addition, Juniper EX switches are easy to deploy and manage, with an intuitive user interface and automated configuration capabilities. EX switches are also interoperable with other Juniper devices and support open standards such as OpenConfig and YANG. With their reliability and flexibility, Juniper EX switches are the ideal choice for businesses of all sizes that need a high-performance, secure network.
Protect your network from threats and optimize performance with Juniper EX Switches. Contact us today to get a customized solution for your needs.

Features:
High scalability and flexibility
Advanced security features such as access control and port security
Automatic configuration and management features
Support for multiple virtual networks (VLANs) and Layer 3 routing
Low latency and high packet transmission rate for optimal performance
Energy efficiency and environmentally friendly design through intelligent power management features
Easy integration into existing network topologies and architectures.