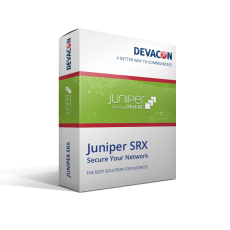 Welcome to Juniper SRX, the leading network security solution for businesses of all sizes. Our SRX Series offers a comprehensive security platform that protects your networks from threats while improving performance.
With the powerful combination of firewall, intrusion prevention system (IPS), VPN, anti-malware, and content filtering capabilities, Juniper SRX provides comprehensive network security for any business. Our advanced security capabilities enable enterprises to detect and block threats in real time while optimizing user experience and data access.
Our Junos platform provides easy management and configuration for IT administrators, enabling them to enforce and update policies quickly and easily. In addition, Juniper SRX provides a scalable solution that can be easily adapted to meet the growing needs of your business.
Invest in the future of your network security with Juniper SRX. Contact us today to learn more about our solutions.
Your benefits:
High-performance firewall with excellent scalability
Support for multiple security features including IPS, antivirus, anti-spam, and web filtering
Integrated application acceleration and WAN optimization features
Intuitive management and configuration interface
Support for virtualized environments and cloud integration
Advanced threat detection and prevention with AI-powered malware analysis and machine learning
Flexible deployment options, including hardware appliances and virtualized instances
Support for high availability and failover capabilities to minimize downtime
Support for SD-WAN and secure connectivity for remote sites and mobile workers
Compatibility with multiple operating systems and network protocols.