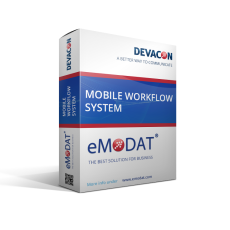 eMODAT - The Innovative Solution for Optimized Data Entry and Management
eMODAT is a powerful and user-friendly software solution designed to help companies digitize, increase efficiency and automate their data entry and management processes. Our solution offers intelligent forms, easy integration with existing systems and extensive customization options for a wide range of industries and application areas.
Key features of eMODAT:
Intelligent Forms: Create dynamic, customizable forms with embedded logic that simplifies and accelerates the data entry process.
Mobile data capture: capture data on the go with our easy-to-use mobile app, available for Android and iOS.
Easy integration: Seamlessly integrate eMODAT into your existing IT infrastructure and connect it to popular databases and backend systems.
Automated workflows: Define automated processes and workflows to increase your team's efficiency and reduce human error.
Reporting & Analysis: Generate meaningful reports and analysis to make informed decisions based on real-time data.
Maximum Security: Ensure your data is protected with state-of-the-art security measures and privacy policies.
Application areas of eMODAT:
eMODAT is versatile and ideal for companies and organizations in a variety of industries, such as:
Healthcare
Logistics
Retail
Manufacturing
Insurance
Financial services
Public Administration
Successful Case Studies
Discover how eMODAT has helped organizations streamline their data entry and management processes and increase efficiency. Read our white paper
Request a free demo now!
Want to learn how eMODAT can revolutionize your data entry and management processes? 
Contact us to request a free demo or get more information.