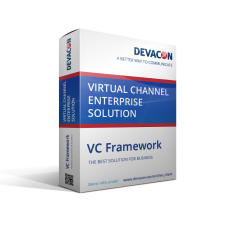 Although Citrix XenApp, XenDesktop and Windows Terminal Server (WTS) offer many advantages for companies of all sizes, their audio support for digital dictation is insufficient. To compensate for this deficiency, we have developed a Virtual Channel solution that allows real-time, high-quality audio file transfers. Using our software, you can now control terminal sessions on PCs or thin clients with your voice recorder, easily transfer dictations, and use ProDictate, our online voice recognition solution, to effortlessly dictate into any text window.
Examples of how we have previously integrated our Virtual Channel framework for clients include support for CTI, data transmission, and data synchronisation between Microsoft Outlook and ERP systems. Our VC users were, therefore, able to work in a Citrix Session and have the ERP/CRM show all the required information on MS Outlook. This information was then synchronised via our VC Framework and users working in Citrix sessions could invoke any Outlook function from inside their session, allowing them barrier-free workflow. 

The benefits of our Virtual Channel framework include:
WCF transport and USB HID device communication over Virtual Channels;
Limited and low bandwidth use for background file transfers;
Instantly available sound playback and recording with very low bandwidth requirements.