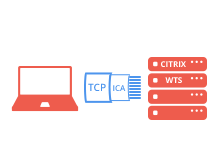 Our VC solutions for Citrix XenApp, XenDesktop, and Windows Terminal Server benefit companies of all sizes. By developing a solution that can be communicated in real time via the VC, the applications include data synchronisation from PC to Citrix XenApp and dictation management. Our VC solution is even used with digital dictation because it enables high-quality audio transmission.
Furthermore, data, such as contacts, e-mails and Outlook tasks can be transferred in real time to an ERP or CRM system. Any possible delay or disconnection is thereby detected by our intelligent resynchronisation system and is automatically re-established and continued in the background. 
With our VC-Solution, you can quickly realize the integration of virtual channel into your software application.
Features:
Easy virtual channel integration into a software environment
Functional virtual channel extensions already exist in the VC-Solution
Interfaces on the server and client side
Communication in real time
Low software development costs
Fast realization period